Lift Kits & Suspension in Houston, Texas
If you're looking to add personality to your vehicle and run bigger tires and wheels for your off-road excursions, then having a lift kit is the best option. At Primetime Autosport, we have the right lift kit for your truck, Jeep, or SUV. We have a variety of sizes available, so you can find the best lift kit for your vehicle. Visit us during business hours, or call (832) 582-7069 for more information on our selection and pricing, we also have financing options.
Best Lift Kit Installation in Houston
Primetime Autosport has the best brands of lift kits in the city of Houston, designed and manufactured by experienced professionals. Our lift kits feature those of early dated jeeps. This ensures that you'll get quality lift kits for any Chevy Silverado, Ford F-150, jeep or Dodge Ram that you own. Our goal is to make sure that every customer that shops with us is satisfied. As such, we offer high quality lift kits at the most affordable prices.
We have established the best customer service base to ensure that what customers want is always what they'll get. Our technicians will install the best suspension lift kits and with the option to have warranty. This guarantees you that we are confident about the the type of work of the lift kits installation to you. Therefore, you can count on us for high quality lift kits at a price that you will not find anywhere else in Houston.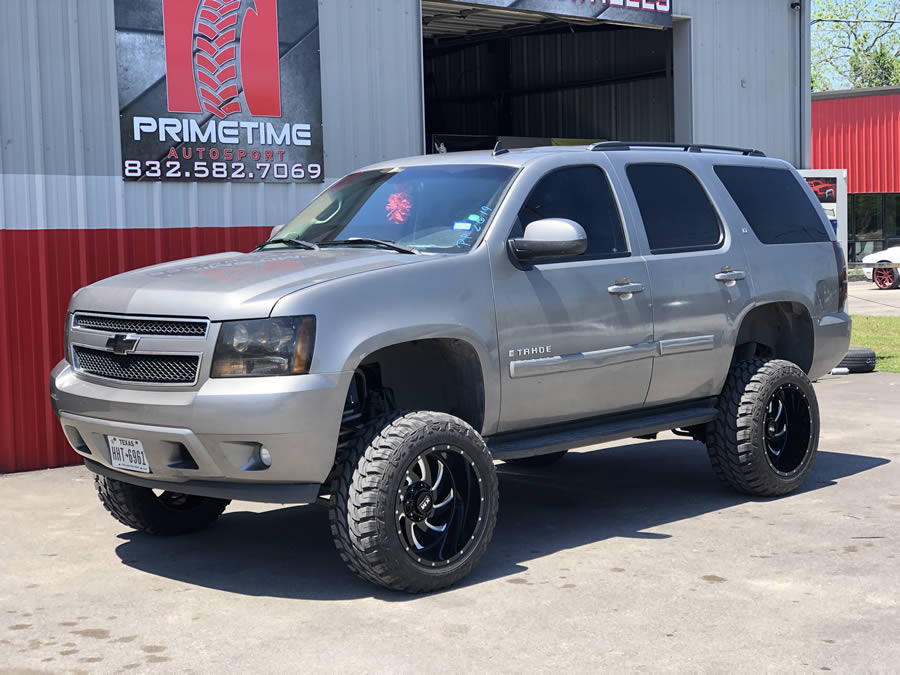 Get Your Car Ready for all Seasons with our Lift Kits Installation Services
Give Your Car an Upgrade with Our Lift Kits
Stock cars are no fun. One of the best ways to stand out of the pack is by getting a lift kit installed. When it comes to lift kit installation service provider in Houston TX, the best is Prime Time Autosport. But standing out is not the only benefit of lift kits. Here are some of the other main advantages:
Improved Visibility
When you are higher, you get a wider and clearer view of the road. This can be a great benefit in congested urban areas as well as on off-road terrains. You can see any obstacles early, reducing chances of accidents.
Better Access to the under body
Anybody who ever wanted to inspect or repair the under body of their vehicle knows how much hassle it can be without a car lift. But because of the increased clearance you get with a lift kit, you can easily inspect or make any repairs easily.
Larger Tyres
There is no denying that bigger tyres look great! Plus, they are a great advantage if you are interested in off- roading or drive on snowy roads. But, the size of the tyres you can install is often limited by the suspension. This problem can also be solved by a lift kit. You can install larger tyres while maintaining the factory suspension alignment and geometry.
Helps with Towing
A lifted suspension makes towing for heavy vehicles easy. Your vehicle would not graze the road even when it squats down.
Improved Suspension
The off-road suspension is also improved when you install a lift kit.
So, contact us today for getting the best lift kit services in Houston TX for your off-road driving excursions!
View Our Brands